BOTTLE MARKET
The Spirits Event at MESSE BREMEN
The BOTTLE MARKET in Bremen is always worth a trip! In the center of the historic, colourful and beautiful hanseatic city discover the worldwide variety of whisk(e)y, r(h)um, gin and other spirits in a cosy atmosphere at the BOTTLE MARKET on the 17th and 18th November 2023.
Get your discounted ticket and book your tasting!
Around 130 distilleries, importers and independent bottlers await you, who look forward to exciting conversations with you and of course your thirst (for knowledge).
Meet like-minded people, take part in exciting tastings, expand your spirits horizons or taste exclusive tobacco products in our cigar lounge. In the gastro area, your physical well-being will be taken care of, which will help you to create a basis suitable for spirits.
We look forward to two enjoyable days at the BOTTLE MARKET with you!
Book travel offers now and spend a weekend with us in Bremen.
Day Ticket
18.00 € *
---
Entrance for one person over 18 years old on one day of event
---
Starter pack containing nosing glass, glass holder and BOTTLE MAG
---
Use of cloakroom
---
* pre-sale price
2-day-Ticket
28.00 € *
---
Entrance for one person over 18 years old on both days of event
---
Starter pack containing nosing glass, glass holder and BOTTLE MAG
---
Use of cloakroom
---
* pre-sale price
OPENING HOURS
Friday, 17th Nov. 2023
3:00 – 10:00 pm
Saturday, 18th Nov. 2023
12:00 – 10:00 pm
Fun Weekend break in Bremen
17th – 19th Nov. 2023 2 nights
Enjoy an entertaining weekend in Bremen and treat yourself with a pre-christmas weekend at the BOTTLE MARKET!
Mercedes-Benz factory tour (Engl.)
Friday, 17th Nov. 2023 2:30 pm
Discover what makes Mercedes-Benz cars so remarkable and see for yourself how a Mercedes is built! Find out what makes Mercedes-Benz cars so special and take a look behind the scenes at one of the most modern automotive factories in the world.
English Guided Tour
Friday, 17th Nov. 2023 3:30 pm Saturday, 18th Nov. 2023 3:30 pm
Join our guided city walk and explore Bremen´s special attractions. Find out about Bremen, its buildings, history and people. You will see the famous town musicians as well as the impressive town hall, belonging to the UNESCO world heritage sites.
Brewery Tour Beck´s (Engl.)
Friday, 17th Nov. 2023 3:00 pm Saturday, 18. Nov. 2023 3:00 pm
The brewery tour offers a fascinating insight into the art of beer brewing with a wealth of information on the brewery itself and its well-known brands: Beck' s and Haake-Beck.
Group tickets
Bus groups of 10 or more people
14.50 € per person
Groups of 10 or more people
14.50 € per person
Group offers
We offer special conditions for travel and bus groups of 10 or more people! You can reach the Group Team by phone at +49 (0)421 3080059.
If you are looking for suitable accommodation, you will also find a selection of hotels at Bremen Tourismus.
The City Center of Bremen
Fancy a spot of shopping? In the heart of the city center, numerous stores invite you to an extensive shopping spree. From the Obernstraße over the Sögestraße through the covered Lloydpassage, a varied shopping offer awaits you.
The Viertel
Like many other things in Bremen, high and subculture are found close to one another – including also in this district on the edge of the centre. The Kunsthalle Bremen and other museums as well as the Theater Bremen are also at the start of the Ostertorsteinweg road.
Universum® Bremen
The Science Center has over 4,000 square metres of interactive exhibitions from the world of science for you to explore. Discover how a polygraph machine works, challenge yourself to a contest of "man vs. machine", or experience what it feels like to stand in a tilted room. Over 250 exhibitions are waiting to be explored.
The Schnoor
Here the name says it all: in Bremen's oldest neighbourhood which dates back to the 15th and 16th century, the houses all stand closely next to one another like beads on a "Schnoor" or "Schnur" in High German (or "string" in English)!
The Rathaus (Town Hall) and the Roland
The 600 year-old town hall with its Weser renaissance-style façade and ten-metre-high Roland statue from the same era are Bremen's greatest cultural gems. The ensemble on the Marktplatz was declared a UNESCO World Heritage Site in 2004.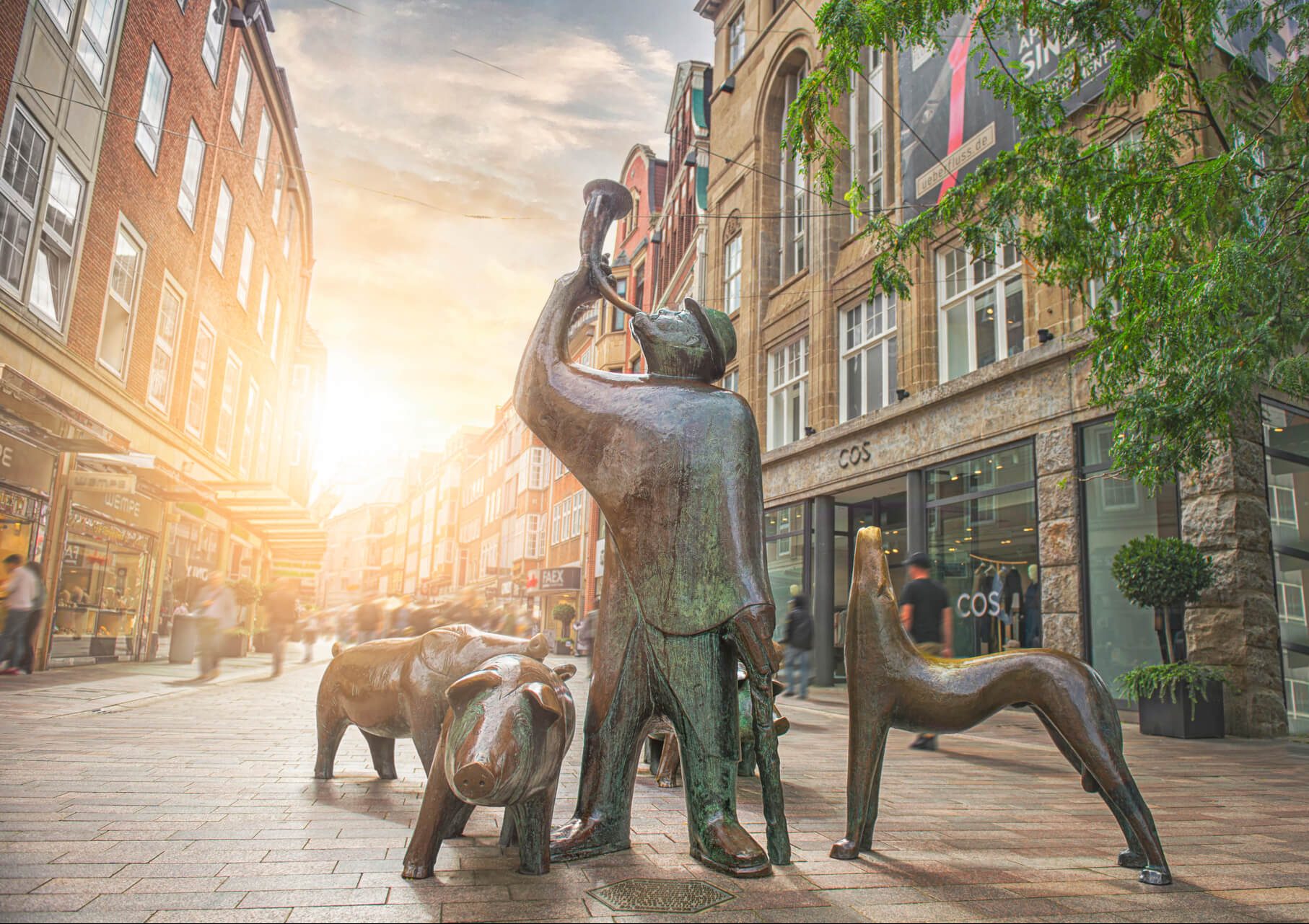 The Town Musicians of Bremen
The donkey, dog, cat and rooster – all children are familiar with the animals from the famous fairytale. This memorial to them stands at one corner of the Town Hall and if you throw a coin into the ground a few metres further down, you will even be rewarded by one of the musicians thanking you!
Getting here
By train, bus & tram
Walk from Bremen central station through the back exit and across the large open area here – the Bürgerweide – and you will be standing in front of our halls. This takes 3 minutes.
Deutsche Bahn
You can plan your journey by train on the Deutschen Bahn website. You can book a Deutsche Bahn event ticket on the event ticket website.
BSAG
If you are travelling through the city centre, the following buses will take you to the exhibition centre: 24 ("Blumenthalstraße" stop), 26 and 27 ("Messe Centrum" stop). To get here by tram, take numbers 6 and 8 ("Blumenthalstraße" stop). Timetables available and further information available on the BSAG website.
By car
Our exhibition guidance system will navigate you from the motorway, through the city and to MESSE BREMEN.
Address for navigation systems
Please note: if you are using a navigation system, enter "Theodor-Heuss-Allee" as destination and this will lead you direct to the Bürgerweide car park. The multi-storey car park is accessed by entering "Hollerallee 99".
Parking
The Bürgerweide car park has 2,500 spaces depending on how it is being used in event areas or as an outdoor area. Further information and details of charges on the BREPARK website.
The exhibition / Messe car park has 250 spaces. Access is via the Hollerallee. Further information available from the transport management office website.
Information on Bremen's environmental zone available on the website of Bremer Touristik-Zentrale.
By plane
Bremen's Hans Koschnick Airport is only a 15 minute taxi ride away; alternatively, take the tram from the airport (number 6 / "Blumenthalstraße" stop).
Further information including on the many flight connections to and from Bremen available on the Bremen Airport Hans Koschnick website.
Ticket-Reminder
Insert your name and e-mail and we will inform you as soon as pre-sale starts.