What are you looking for?
The BOTTLE MARKET is North-West Germany's largest whisky and spirits event. Here, you'll find whiskies from all over Scotland as well as Iceland, Sweden, Germany, France, India, Taiwan, Japan, the USA, Canada and many other countries.

Whatever you prefer: a smoky taste or a lighter Irish flavour, classics or new products, rye or bourbon, single casks or standards - our exhibitors have the right stuff for you!

You might even find your new favourite for your upcoming Christmas celebrations!

Come along, bring your friends and sample the drinks available at the stands at cost prices. You won't miss it!
The Whisk
(

e

)

y-Points
Whiskies from Scotland, Ireland, Japan, India, the USA – many of these countries can look back on centuries of producing the "water of life". However, the BOTTLE MARKET also provides a showcase for whisky nations that have only been distilling for a few decades or even years.

Our two Whisky Points are dedicated to these innovations.
At the Scandinavian Whisky Point, Sweden's oldest distillery is represented alongside Norwegian and Danish whiskies. You can chat with producers from Finland and Iceland and try amazing whiskies as well as clear "white dogs".

The German Whisky Point presents German distilleries and their specialities. The range here includes whisky, fruit schnapps and cask-aged Korn. This is the place to go to experience the variety of German distilled products.
Please meet Ben & Tom – our
Festival bottlings 2021
We'd be delighted to introduce our 2021 bottles - exclusively at the BOTTLE MARKET! United in spirit, yet so very different. Each one special in its own way. Opposites attract.
To taste:
at the booth of Scotch-Club Bremen
at the booth of Highland Games
as well as in praline form at booth of Konditorei van Heyningen.
Benrinnes Single Malt
Matured for 9 years in a hogshead cask – one of our exclusive individual cask whiskies, aromatic and creamy, with fresh citrus notes from beautiful Speyside.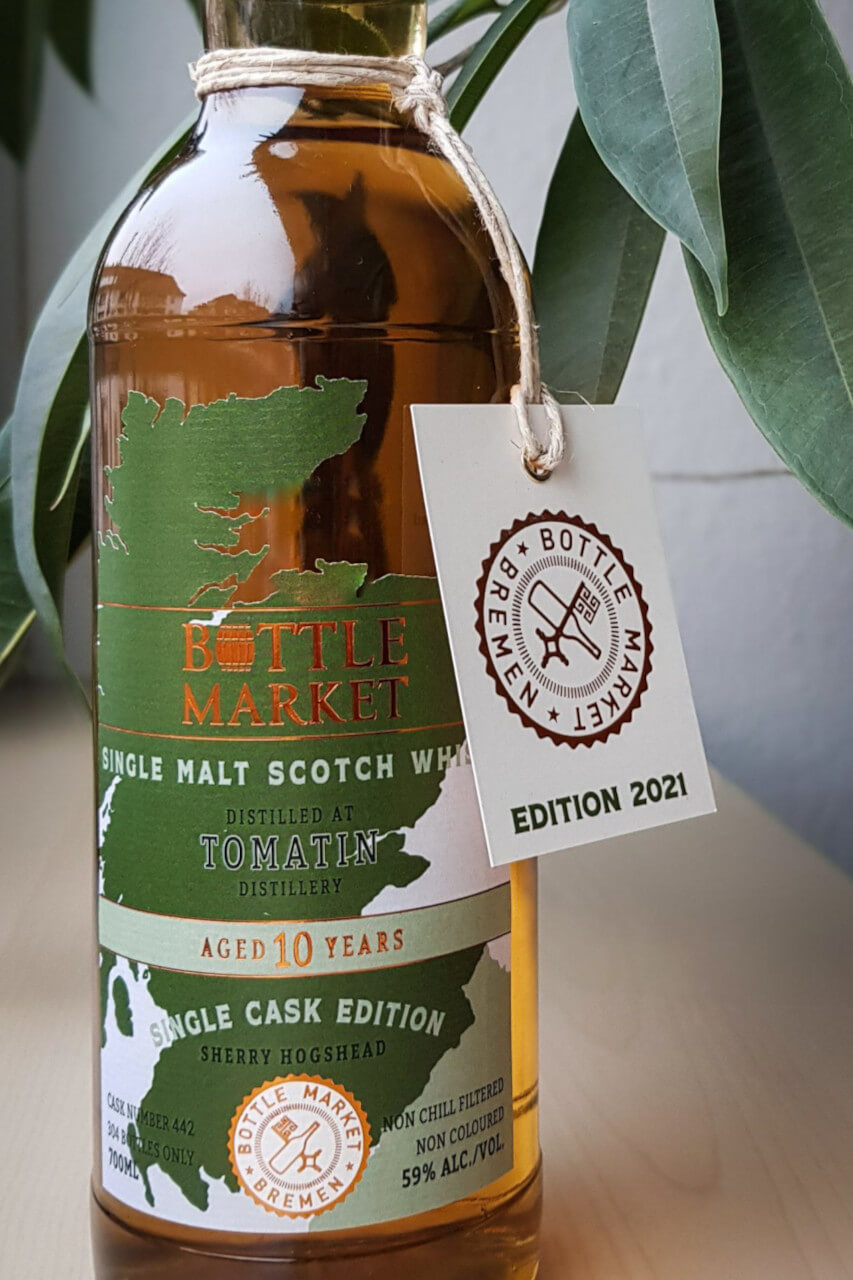 Tomatin Single Malt
Matured for 10 years in a sherry cask – this year's special festival spirit from the Highlands, a harmonious blend of herbs and the aromatic sweetness of dark fruits.